Decor de Decor est une ligne de bijoux élégante d'art moderne
fondée en 2009 au Japon.
L'univers de la créatrice Masuyo SASABE,
avec ses accessoires décoratifs « épicés »,
donne une impression sophistiquée.
En laissant la matière
"le plaqué or 24K" parler par elle-même
il en ressort un sentiment de luxe
rayonnant et scintillant.
La gamme de bijoux comprend
des colliers, des bagues,
des boucles d'oreilles et des bracelets.
Les collections couvrent
un éventail de styles allant de
« facile à porter tous les jours » jusqu'à
« chic dans les grandes occasions ».
Decor de Decor participe
au salon international
"Premiere Classe Tuileries" à Paris.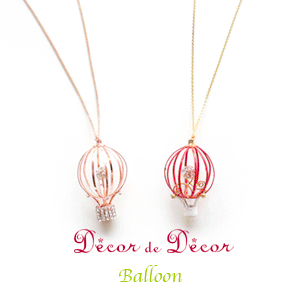 Decor de Decor is a stylish modern art line which started 2009 in japan.

The view of the world created by the designer Masuyo SASABE,
featuring spicy decorative accessories,
it leaves a sophisticated impression.

Allowing the material to speak for itself,
we apply technical skill to
gold plate 24K,
creating a luxurious feeling
that radiates a sparkling shine.
Our items include necklaces,
rings, earrings and bracelets.

We have collections spanning
a spectrum of energies from
"easy to wear everyday "
to "dress up".

Decor de Decor participates in
the international show
"Première Calsse Tuileries" in Paris.